KB Article: 333
Topic: General
Question:
Ii would like to see at a glance the number of outstanding PM Jobs, Defects, Certificates, Surveys and Superintendent Action List items that require attention.
Solution:
Purchase the MPM Dashboard enhancement upgrade.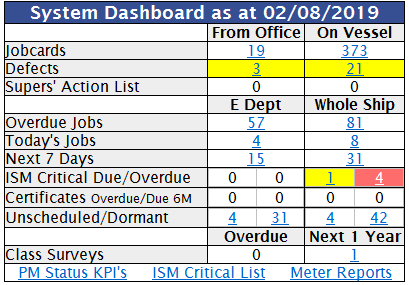 Call Marine Software for further information on +44 1304 840 009 or email info@marinesoftware.co.uk.
This article was last updated 1 year, 5 months ago
Feedback
We give our users an opportunity to vote for items that they believe have helped them out, in order for us to better serve future customers. We would appreciate your feedback on this article. Did you find it useful?
The results of voting by other readers of this article are below:
Recommendations: 0
Votes: 0
Overall Rating: Unrated