Marine Software Newsletter - January 2015
MPM delivered for new Sail Training Brig
UK based Marine Software Ltd have recently delivered the MPMWin - Marine Planned Maintenance system to the Marine Society & Sea Cadets (MSSC) for their new flagship TS Royalist.
Built by Spanish shipyard Astilleros Gondan, this 32m Sail Training Brig will replace their old Royalist after a successful 43 year service, being originally launched by Princess Anne back in 1971. Twelve Sea cadets and Royal Marine cadets from across the UK attended the shipyard launch in Spain on 19th Dec 14, and the vessel will be ready for the start of the 2015 sailing season ready to take thousands more cadets on an offshore voyage experience over the next 40 years.
Sea Cadets is a national youth charity committed to supporting 14,000 young people through nautical adventure and challenge to give them the best head start in life. Key to its core is providing incredible offshore adventure and the charity operates an offshore fleet of five vessels to ensure it can provide that.
MSSC has been working with Marine Software planned maintenance systems for eight years now. The system has proved popular and is installed in three of its 24m vessels with great results. The charity's new flagship is in the process of having the maintenance database populated, ready for vessel acceptance in the next two months.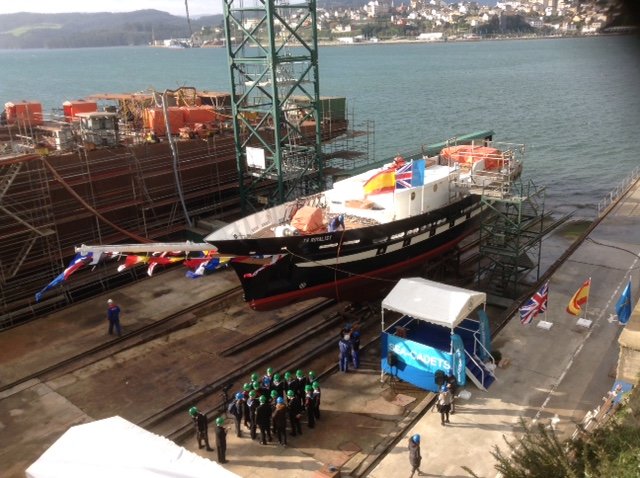 The charity says;
'We've found the software simple to install and we can download updates for the ship and office based systems easily. It's reassuring that the 24/7 web support means we can get help by phone, email or search the site online for help'.
'OPM gives us a good overview and administration of upkeep within our small fleet, using easy regular data downloads from the ships. The display of fitted equipment, maintenance operations, cradle to grave maintenance history, planning, surveys for classification/coding and defect recording are all really useful features, the latter also helping to identifying possible failure trends'.
'The software allows us to attach electronic reference manuals accessible from within the equipment maintenance operation instructions (Job Card), which we find especially useful for the onboard maintainers. The simplicity of program operation and navigation around the functions means we can easily carry out in-house training onboard for less familiar users'.