Marine Software Newsletter - December 2015
Global Marine Services install MPM & MSK for "AHTS Excelsior" & "AHTS Warrior"
U.K. Based Marine Software have supplied UAE based Global Marine services with MPMWin - Marine Planned Maintenance Gold Version & MSKWin - Marine Storekeeper software packages for the control and management of their DP-2 vessels "AHTS Excelsior" and "AHTS Warrior".
These vessels will be managed by the OPM - Office Planned Maintenance & OSK - Office Storekeeper packages installed in head office and complimented with centralised remote access by Mumbai office users.
AHTS Excelsior is a 2014 built, ABS classed, DP-2 offshore support vessel equipped for Towing, Anchor Handling, Fire-fighting, Oil recovery & Carriage of Noxious liquid substance, currently operating offshore India while AHTS Warrior is a 2015 built sister vessel, currently operating offshore Qatar.
Established in 1993, GMS started operations in Sharjah, UAE to provide specialised offshore marine solutions with their fleet of ocean going tugs and offshore support vessels. The company has become a major player in the Gulf marine industry.
This contract was organized through Dubai based partners "Sicil Marine Ship Management & Operation" who were contracted by GMS to provide a fully configured, ship-specific, ready to operate Planned Maintenance database covering all Deck, Machinery, Safety & Dynamic Positioning equipment followed by Office and vessels installation & onshore/offshore user training.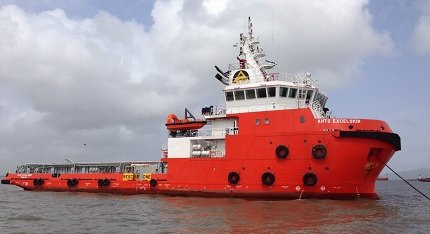 Global Marine Services Comments:
'Global Marine Services has installed Marsoft MPM on our DP-2 "AHTS Excelsior" & "AHTS Warrior" along with OPM in the office, and we are very satisfied with the products. Related services support by SICIL Marine Dubai has been at par with our expectations. Management has further decided to install MPM on our future new built DP-2 scheduled to be operated by the company.'