| | |
| --- | --- |
| | Marine Planned Maintenance for Windows 'Gold Plus' Edition |
U.K. based Marine Software Limited are pleased to announce the release of MPMWin 'Gold Plus' Edition. The 'Gold Plus' Module contains features that are in addition to those that exist in the Gold Module.
The features include: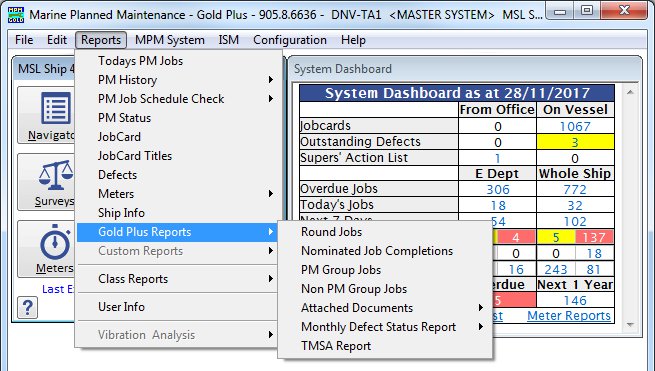 Rounds
Individual job routines (usually regular inspections) can be grouped as a Round. Selected job routines on the Round can be completed in the same operation with a history entry of 'Completed on Round x' for each completed job routine.
Nominated Jobs
The present Job Completion Access Level of 20 is retained for general job routine completion by non-editing users. This level allows users to issue and complete job routines but not change any other information in the system.
Additional Access Levels of 22, 24, 26, and 28 are enabled in the system for jobs routines 1-6 together with the ability to nominate a job completion for an individual such as the Chief Engineer.
The access levels 22-28 enable selected job completions to be nominated for senior officers, to ensure that all the information required by company and statutory requirements is included. Any job with a numeric access level can be completed by any individual with an access level at or higher than the nominated level.
Individual Nominations are for completions that are reserved for a particular individual such as the Chief Engineer or Master. Only the nominated individual can file the completion although other individuals who may have carried out the maintenance have the ability to file a pre-completion report to provide the nominated individual with any helpful information.
Pre-Completion Reports
Users trying to complete a job routine nominated for an individual such as Chief Engineer will be refused entry, unless they are the nominated individual, to the Job Completion Screen but offered the option of making a pre-completion report. This pre-completion report should contain all the completion information they would have entered had they been able to complete the job directly.
This pre-completion report will be displayed to the nominated user when they complete the job together with an option to insert the text into their report, where they will be able to edit and add to it. They have the ability to select and edit the comments for inclusion or otherwise into their job completion report.
Fleet Passwords
Functionality to create and edit a standard fleet password list that can be emailed to all Gold Plus ships where it will overwrite and update the existing password file enabling updating and control of passwords from the office.
Predicted Stock Report for PM systems with attached MSK system
A look ahead for maintenance scheduled with the option of 4 weeks, 13 weeks, 26 weeks or 52 weeks to calculate the stock requirements for PM jobs having linked spare parts on jobs.
Having crunched the numbers the user will be offered the option of two reports, stock required per PM Card and stock required for individual Inventory Sub Sections.
Superintendent Review
The review will run a series of system reports for either the Chief Engineer or Superintendent on their ship visit.
Additional Gold Plus Reports:
Round Jobs - report which details all the jobs allocated to each inspection Round
Nominated Job Completion - details all the jobs for each access level 22-28 and for each user stamp nominated
PM Group Jobs - details all the jobs for each PM Group
Non PM Group Jobs – details all the jobs that are not allocated to any PM Group
Attached Documents Report – lists all Job Cards that have documents attached
Missing Attachments Report – lists all Job Cards that have had documents attached but are missing
Monthly Defect Status Report - lists the defect status for each month on an historical basis
TMSA Report – lists Jobs outstanding at the beginning of each month, due and completed within the month, outstanding at the end of the month and the % Jobs outstanding.
OPM Gold Plus Features
OPM Fleet Reports for Gold Plus Ships only
Fleet TMSA report
Fleet Defect Status report
The MPM 'Gold Plus' Edition can be purchased either as an upgrade for any existing MPMWin Gold users, or as a new stand-alone system, offering a considerable saving over purchasing the individual upgrade modules separately.
All these features are in addition to the Marine Planned Maintenance Gold for Windows system.
Key benefits
Robust
Easy to use
Minimal Training required
Further information
Information on Support & Maintenance Contracts
MPM - Frequently Asked Questions
If you would like more information about this product or you have any comments then please contact us using the link below. If you would like a free online demonstration of Marine Planned Maintenance Gold Plus for Windows, please click the link below and make sure you check the box at the bottom of the form requesting a demonstration.